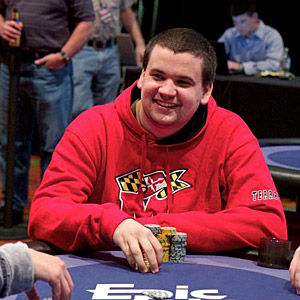 Christian "charder" Harder was brought up in Annapolis, Maryland where he still resides. He traveled worldwide to play poker and has a wealth of final table experience in major tournaments including deep finishes in multiple WSOP, EPT and WPT events. Harder is no stranger to tournament poker since he spends most of his time playing the biggest buy-in tournaments online.
Having accumulated $2,396,604 in live winnings and over $1,502,661 online, Christian is a reputable player with wins in some of the most challenging tournaments around. Harder has cashed in seventeen WSOP events for $465,406, bagged a total of $963,741 from eight WPT Events and $337,218 from three EPT Events.
Born on November 3rd, 1987, Christian graduated from St. Mary's High School in 2005, and eventually discovered his passion for poker while playing it online with his friends, but it wasn't until 2007 that he decided to become a professional.
Harder attended Salisbury University in Annapolis to study Business and continued to play poker online. During his last semester, especially after making a decent living by playing online, he decided to take time off from school to focus on his career as a poker player. Â During High School, his love for poker compelled him to take up a part-time job as an ice cream scooper since he realized he needed a source of income that would finance his bankroll.
"My first two years online, I lost. I dumped my minuscule paycheck from my high school job into my account and kept losing. It wasn't that much, like $2,000 total. I just wanted to figure it out though. It was such a complex game."
Harder wasn't born with his talent and knowledge for poker, rather he represents the quintessential story of a person who achieved success through sheer grit and unstoppable determination.
"I really wanted to be good. I played with friends in high school online. They took it easy and I was trying harder to figure out why I wasn't doing better. I just kept playing. I just really wanted to become good."
At the young age of 20, Christian not only worked hard to make ends meet, but also concentrated on poker. He groomed his game and learnt to play online by reading up on forums and game strategies of other players. The results from Harder's hard work did not appear instantly though.
"When I was a broke college kid, in between classes, I would read hands (on 2p2). I'd read what Dani Stern and others would do and why they would. That was a big deal."
Christian's first major breakthrough was in January of 2008, where he secured 7th place and managed to accumulate $200,000 in the 2008 PCA Main Event. From then on, he significantly improved his game and just went on cashing and cashing.
Christian raised the bar in April of 2009 when he got 4th place and took home $571,965 that he cashed in a $25,000 WTP Championship Event. Then in July of 2009, he claimed 1st place at the Bellagio Cup V and cashed $204,550 in the No Limit Hold'em Event.
"Eventually, I made those scores and that made me more confident. With confidence, you don't think about the bad results or what will happen if you lose. That helped a lot. Since then, I've just slowly gotten better."
In November of 2010, at the 2010 Annual WSOP, he cashed for $57,102 in the $10,000 WSOP Main Event. Claiming to be back in the series, Christian secured 4th place at the 2011 Annual WSOP, taking down $132,623 in the $3,000 No Limit Hold'em Heads Up Match. His recent achievements include a 2nd place in the 2011 WPT Championship in Mashantucket, cashing $248,692 in the $9,700 Championship Event.
With the experience and success this young gun has already acquired, Harder will continue to be a force to be reckoned with at any tournament poker table.